Intro to Pasta Makers
Creating fresh pasta with your very own pasta maker enables you to make an exceptional variety of delicious pasta dishes. The options and choices are vast. You can follow timeless traditional recipes, or create your own culinary masterpieces. No wonder Italian cooking is so popular. No wonder that pasta is one of the world's most popular dishes. Cuisine at its finest. The flavor is the difference!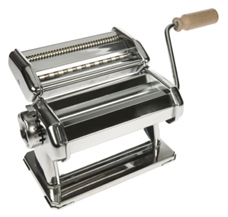 Pasta makers are stylish accessories in any stylish home kitchen. They are fun and relaxing items to have. Quality machines are both compact and easy to use. The best pasta makers are strong and durable and built from solid tempered or stainless steel. They can be a great and fun family activity as well. In no time at all, you and your family will be making your very own tasty pasta.
A brief introduction is presented here, more details can be found on other pages. Your instruction book will have more specific info about using your particular pasta maker.
Overview
Once you have obtained all your ingredients, set up your pasta maker for operation, and read the machine's instructions, the first step is to make sufficient dough for your meal. For ideal results, you need to create your dough with just the right consistency and softness to suit your machine. This is the key secret of making great pasta, make your dough with just the right suppleness, firmness and softness.
See our "Making Dough" page for more info.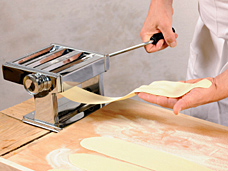 Next, you divide the dough into lumps of a certain size to suit your pasta maker, around the size of the palm of your hand.
Pasta makers have cylinder shaped flat and round rollers in their mechanism to produce your pasta. They work by pushing the dough using moderate pressure through these rollers, again and again and again. Next, you gradually move the rollers closer and closer together. With experience, you quickly become expert both at making your original dough, and at feeding it through your machine.
See "Using Pasta Makers" for more info.
The end result is a beautiful, thin and flat sheet of pasta which you are able to use in a variety of ways and shapes to help create the delicious meal ahead.
Pasta makers generally have a regulating knob with around five to ten different settings so you can adjust the thickness of your pasta sheets. On manual machines, simply turn the handle, while on electric models, simply activate the motor to begin making your pasta.
Pasta makers are supplied in either manual or electric models. Manual pasta machines represent superb value and a very fine manual pasta maker can be acquired for less than $100. Most machines include accessories such as a clamp to attach your machine to your bench top, for example.
Tip: use the biggest bench space you have in your kitchen! You can also obtain cutting tools so that you can create a wide variety of wonderful shapes, from fettuccine to spaghetti. One or two cutting attachments typically ship with your pasta maker package. It's best to check before buying. The finest pasta makers have removable cutting heads to make cleaning easy and fast.
Some pasta maker sets ship with a variety of useful accessories not always provided with basic models. A good example is a ravioli attachment which can be used to crimp and fill two sheets of pasta with your choice of filling. Be sure to read all the details about accessories and descriptions before choosing your model. Other accessories can be purchased separately. For example you can purchase an electric dough mixer to go with your pasta maker. Another great accessory is a hanging rack.
Your instruction book that comes with your pasta maker can give you more details on using your machine. And if you really want to become an expert, there are great How To books and recipe books available as well.
Finally, there are many good "how to" videos available on the internet about making fresh pasta. In Google ("videos" option), try searching for 'fresh pasta'. Or try the same search on YouTube. Look for the excellent instructional video by 'mikeiem', a superb and comprehensive 10 minute introduction to dough making and using pasta makers.